The Phantom of the Opera: The Broadway Musical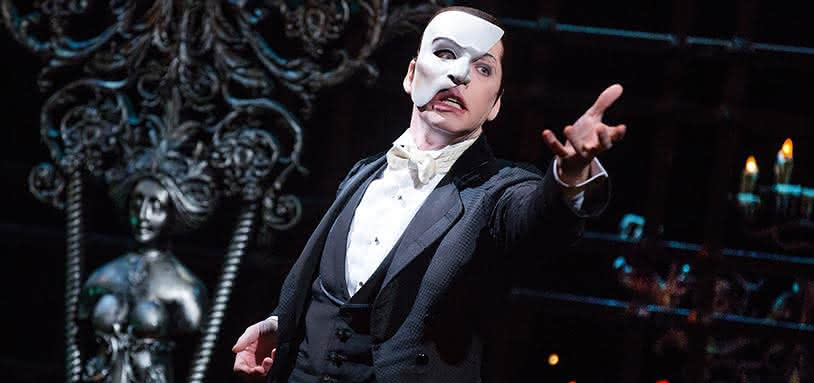 Allow yourself to be seduced by the Music of the Night… the longest-running show in Broadway history, Andrew Lloyd Webber's adaptation of the classic novel by Gaston Leroux has been thrilling audiences for over thirty years. With seven Tony Awards to its credit, and a who's who of Broadway among its cast, 'Phantom' is here to stay!



In the late 19th Century, a mysterious musical genius lurks in the labyrinth beneath the Paris Opera House. Born with severe facial deformities, he wears a half-mask to obscure his disfigurement. The young chorus girl, Christine Daaé catches his attention, and he begins to teach her, quickly becoming obsessed with the young beauty. In his quest to make her a star, nothing and no-one will stand in his way… With Maria Björnson's spectacular staging and unforgettable music, this dramatic work is an essential experience for all lovers of musical theatre.



From its spiritual home on New York's 'Great White Way' the Broadway musical has been packing the audiences in for over a century. Legendary writers such as Cole Porter, Irving Berlin, Jerome Kern, Andrew Lloyd Webber, Jerry Herman, and Stephen Sondheim, or partnerships like the Gershwins , Lerner & Loewe, Rogers & Hammerstein, Kander & Ebb, and Boublil & Schönberg, have created spectacular vehicles for star performers – so-called 'triple threats', who sing, dance, and act with equal talent – and powerful ensembles alike. Running the gamut from spectacular to stark and restrained, musical theatre can be pure frivolous fun, but has a long history of tackling serious social and political issues. Always primed for reinvention, alongside Broadway's perennial hits and classics, musical theatre has a new vigor in the twenty first century, as live-action Disney, rap and 'jukebox' shows light up new theaters, and attract new audiences. The Show will indeed Go On!



The Phantom of the Opera is a musical theatre classic, suitable for all ages, though younger children may find some elements frightening.