Classical Piano Excellence in Concert
Unforgettable Performances
Classictic offers many of the world's most renowned pianists in unforgettable performances. Experience the genius of these artists live in concert, each unique in style, virtuosity and program. Order your tickets online and receive them per email. Print your ticket yourself and enjoy a superb concert.
Vienna | Peterskirche
Mozart Piano Sonatas: Vienna, St. Peter's Crypt
Enjoy this piano concert series, 'Mozart Sonaten', performed at the Peterskirche in Vienna.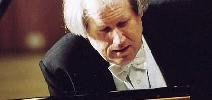 Berlin | Philharmonie Berlin
Grigorij Sokolov
The renowned pianist Grigorij Sokolov will give a concert at the Philharmonie Berlin.
Berlin | Philharmonie Berlin
Rudolf Buchbinder: Complete Beethoven Sonatas VII
Rudolf Buchbinder presents the 32 Beethoven piano sonatas in the Berlin Philharmonie.